I first heard about #coffeeEDU in a Twitter chat last winter.  Steve Isaacs from South Jersey was hosting one. It sounded like a great way to meet new educators who are passionate about teaching but it was 2 hours away from where I live – way too far for me to drive for a 1 hour meetup.
A few months later, in a conversation with some of my buddies in my PLN aka the #EdJusticeLeague, I posed the idea of hosting a #CoffeeEdu in North Jersey.  That's when @MrSchoenbart said that #Remind would sponsor us. All we had to do was to find a local coffeehouse that wouldn't mind a bunch of nerdy educators yucking it up for an hour once a month.  Sogno Coffee House in Westwood, NJ was just the right spot and #CoffeeEdu was born in North Jersey.
So here are 3 things you need to know about #coffeeEDU!
1. IT'S NOT ABOUT THE COFFEE.  Ok, in the case of Sogno Coffee House it IS about the coffee AND crepes. We got lucky in finding this little gem.  Sogno is a family owned business who welcomes the lot of us once a month.  We enjoy coffee and crepes and shoot the breeze about all things EDU.
 #coffeeEDU is really about the conversations you have and the people you meet. Having coffee and crepes is the icing on the cake. Different people show up each time so the conversation is never stale and your PLN continues to grow.  It is an awesome way to meet new people in the field of education and to break out from the comfort zone of the school/district you work in.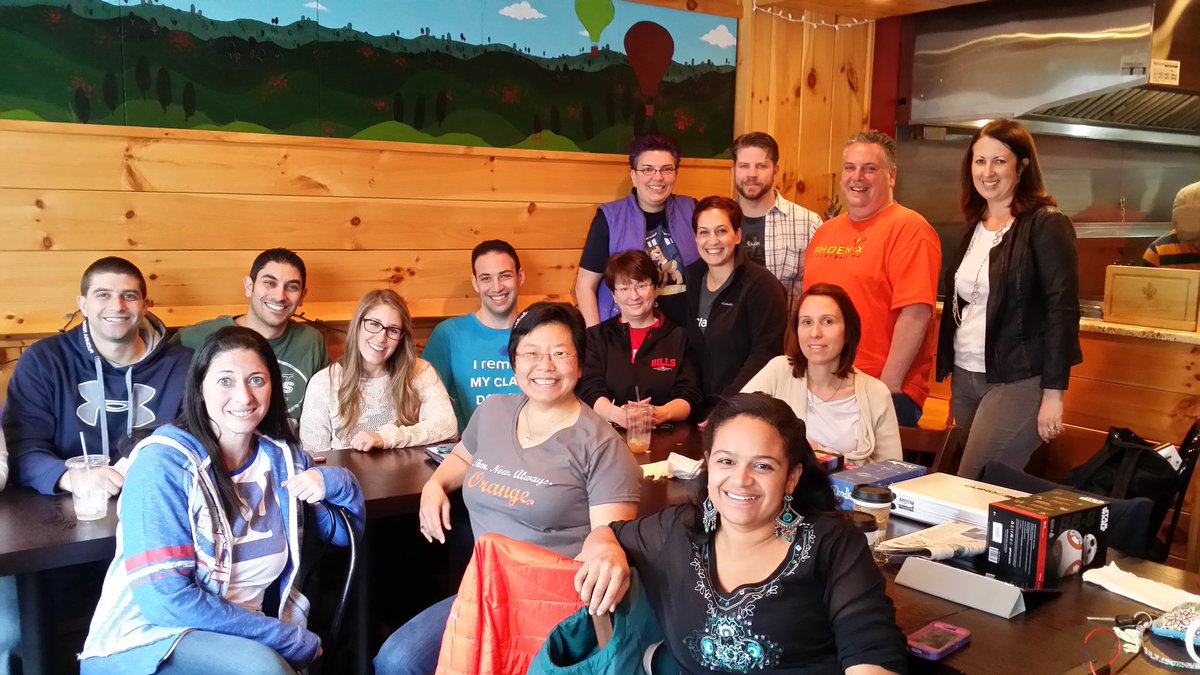 2. IT IS SO WORTH THE TIME – I hear from a lot of people that they just don't have the time.  They have this and that and they say they want to come but they never do.  In my experience it is SO worth the time.  I have met some very cool people in the three meetings we have had so far.  People from all over NJ, NY and even Connecticut.  I love to hear about what other people are doing in their classrooms. It is an awesome way to get new ideas and in some cases build and foster friendships.  So the next time you think to yourself that you don't have the time – it's like going to the gym or doing anything else for yourself – you have to MAKE the time.  
Our next meetup is on Sunday, December 20 at 10:00 am. Will you be there?  Or will you say that it is right smack in the middle of the holiday season and you have too much going on?  It is the perfect time right before the new year to learn something new that you will try with your students when you return from the holiday!
3. IT'S A GREAT WAY TO FIND INSPIRATION – I had an awesome summer and found it particularly hard to get back into the swing of things this school year. I had so many things on my To-Do list but I just couldn't find the motivation to get things done.  Meeting once a month for #coffeeEDU has rejuvenated me!  I find myself oozing with energy when I leave (and it's not from the caffeine – I only drink decaf!) and inspired after talking with other passionate educators.  
During today's meetup I came up with the idea of this series of blog posts entitled, Three Things You Need to Know About…  It just came to me while talking with some other bloggers while discussing some of the blogs we follow and how they come up with ideas of what they write about.  Some of the "maker space" gurus that were with us today ran out to their cars and got some of their gadgets and we got to play with 3D pens!  I texted the media specialist from my building right away and told her HAD to come to EdCampNJ and meet these people so she can learn and grow the MIOBI lab in our building.
#coffeeEDU is a great way to meet new people, grow professionally and find inspiration.  Will you join us on December 20?  Too far away? Then create your own!  All you need is a place to meet and a few people to share ideas.  Let me know how it goes.
@TheConnectedEdu on Twitter
theconnectededucator@gmail.com